Insurance Claim Re-roof Process
Homeowners In Colorado Springs Replace Their Roofs Every 7 Years On Average
If you're new to Colorado, you may not have ever had to file an insurance claim for property damage before, but chances are if you've lived here for more than a few years, you've been through the claim process for hail damage to your roof or even your whole house.
The insurance claim process can be confusing and intimidating, but the information on this page should help you make sense of everything.
Don't Make Either Of These 2 Common Mistakes...
Almost immediately after a hailstorm there will be door-to-door canvassers from roofing companies working the neighborhoods which have been hardest hit by the hail. Their primary objective is to get you to let them on your roof so they can tell you if you have hail damage and convince you to file a claim. However, you may not need to file a claim and if you do, but you don't have any damage, you will then have a "zero-pay claim" on your insurance record. That's one mistake.
The other mistake is calling your insurance company right after a hailstorm and asking them to send an "inspector" to check your roof for damage. It's not responsibility of the insurance company adjuster to check your roof for damage.
When Your Insurance Adjuster Comes To Your House
IMPORTANT: Before you file a claim for hail damage, there is some critical information you should consider. Please take a few minutes to check our VLOG post, "What 3 Things Should You Know Before Filing A Property Claim?"
When you have filed a claim, your insurance company will send an adjuster to your house. The adjuster's job is to evaluate the amount of damage to your property and then provide you an estimate of the costs to repair your damage. You will receive a claim document (also called a Loss Sheet) either directly from the adjuster, in your Email, or in the mail a few days after the adjuster's visit.
The claim document will show a breakdown of each line item that is part of the claim and that item's associated price. The claim will also include a few pages of summaries of the total amount of the loss. This document can be complex and confusing.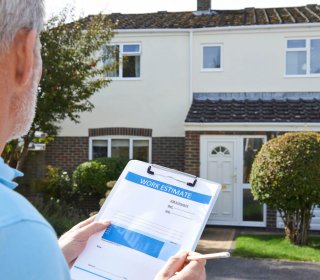 It's important to understand that the document the adjuster provides you is simply an estimate. It may or may not accurately reflect what it will actually cost to have the repairs completed.
There are 3 primary factors that determine how much money you will receive to re-roof your house.
The amount of your deductible
Whether you have a Replacement Cost Value (RCV) or Actual Cash Value (ACV) policy
How accurate the adjuster was in his estimate
If you're home when your adjuster comes to the property, when he's done with his inspection, he will most likely discuss his report with you. If your claim is accepted, he'll explain what items will be included in the claim. He'll probably also explain the estimated financial amount that will be assigned to your loss and then discuss how those payments will be made to you.
If you have a Replacement Cost Value policy, you will receive 100% of the replacement cost minus your deductible. If you have an Actual Cash Value policy, you will only receive the amount of the replacement minus the depreciation amount and your deductible. To understand these 2 policy types, and how it may affect how you can proceed with your re-roof, check our post, "What's The Difference Between Actual Cash Value And Replacement Cost Value Coverage?"
If your claim is denied, read our BLOG post, "My Claim Was Denied! Now What?"
"Our replacement roof and gutter experience with Homestead Roofing was wonderful. Tracy was thorough, polite, as were his employees, trustworthy, responsive, and fair. He even let me know, if he had had the initial look at the roof, we could have waited, but with the initial inspection from a different roofer the claim had already been filed. Our roof and gutters look great! We would highly recommend Homestead Roofing!"
"It is a great experience working with this company! We never seem to have any issues that are not immediately resolved."
Homestead Roofing is fantastic! You guys did a great job, got it done on time, and cleaned up well after the job. I would give Homestead Roofing a 5-Star rating! The project manager, Steve, was great to work with.
Our project manager, Steve Moon, kept in touch through the process of getting a new roof. He has also gone above and beyond to make a gutter by our step look great!
A Roofing Company You Can Trust